This past June, several Bishop Feehan students took advantage of a once in a lifetime opportunity to visit Australia through Bishop Feehan's partnership with EF (Education First) Tours. Students participated in a variety of activities while on the tour, from snorkeling the great barrier reef, to exploring the third largest sand island in the world. Student highlighted their favorite parts of the trip in a brief interview: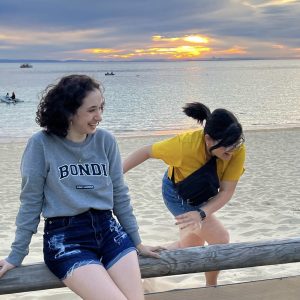 "
You receive travel experience through this, you get to see all the different kinds of nature here in Australia, and considering the fact that most of the continent has different animals and plants, especially compared to North America, but even just in general it's so different. I thought that was very cool, and also just seeing the culture in Sydney was also very interesting.
— Grace Muliero ('24)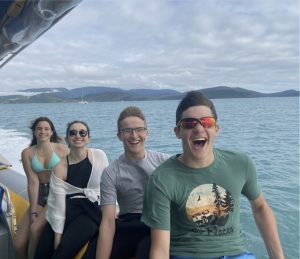 "
I don't want to go home. I met Kurt, Kurt works on the boat, he's the best. I want to be like Kurt. Kurt is my new dad.
— Chris Deckett ('25)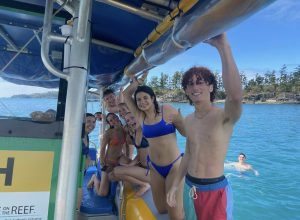 "
We got to go out on a boat to the whitsunday beaches, and it's the third whitest beach in the world, and we got snorkeling on the outskirts of the Great Barrier Reef which was amazing
— Danny Coady ('24)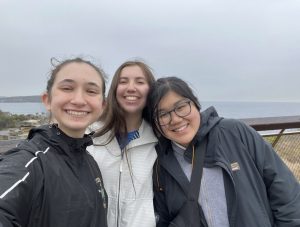 "
I loved seeing the Sydney Opera House, that was really cool. I loved seeing all the different species of animals they have. They have their very own [species of animals] which can't be found anywhere else [in the world], that was awesome.
— Lilyana Crifo ('24)
Among the listed activities featured in student's responses, other scheduled activities this year included:
snorkeling through the Moreton Island shipwrecks

Trying local cuisine including meat pies and vegemite (with many students quickly discovering the polarizing taste vegemite contains for those unused to its unique flavor…)

Feeding Kangaroos and holding koalas at Billabong Sanctuary in Nome

Exploring local businesses and restaurants in Port Douglas

Taking submarine rides along Cape Tribulation

Finding local wildlife on a Daintree River cruise..
And so much more!

Students were asked if they would recommend EF Tour experiences to other Feehan students interested in the upcoming tour in 2024: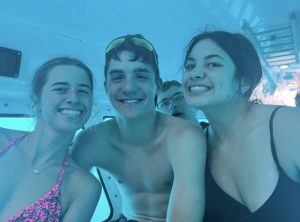 "
I would say one hundred percent, it was a really amazing way to experience a different part of the world and it's been a really fun time so I totally recommend it.
— Maddie Brennan ('24)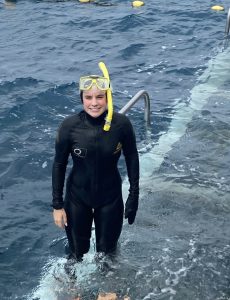 "
Yes, I would suggest that. It's opened my eyes to [new] views on climate change and social issues… because compared to America it's so different, I used to see those things kind of poorly but I definitely feel more informed on it now.
— Elizabeth Deckett ('25)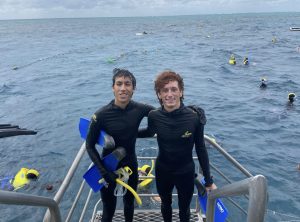 "
Yes, it's a great opportunity to expand your knowledge [in] a different place and learn about new stuff you never knew before.
— Joey Ahmed ('24)
As one of the many who were fortunate enough to experience this once in a lifetime opportunity, I cannot recommend this tour group enough. It was easily the best part of my summer, and I enjoyed every minute of trying new things and seeing new places I may not have ever seen in my life if it were not for this trip. EF tours made planning the trip easy for all the student travelers and parents, and let us shake off the worries of purchasing airline tickets or booking hotels. Among fun planned activities coordinated by Beth Arrington, head tour coordinator for the yearly Feehan trips, a good percentage of your free time can be spent with your classmates exploring designated areas of the cities you're touring, or enjoying the amenities of the hotels you stop at together. As someone who considers herself an ambivert person, the breaks between activities to just spend time with your close friends at a cafe or by the pool calmed the anxieties that came with being far from home. I always felt supported by the chaperones and peers that were with me, and Beth's decades of experience coordinating school experiences was a sigh of relief for myself (and my mom). If you like to travel, or desire to learn about the culture of Europe, (or maybe you're just looking for something fun to do with your friends next summer!) I cannot recommend the 2024 trip to Ireland and England enough. The trip is available to all grade levels, including current freshman and seniors! If you sign up earlier, travel bundles and down payments are much cheaper. Along with the early bird discount, the more students on the trip the more the price will decrease for ALL travelers! If you have any questions about the upcoming trip, email Mrs. Cryan at [email protected] or attend an informational meeting at St. Mary's Church HalL, North Attleboro on October 16th at 6:30pm.
Hope you all had a wonderful summer, Feehan! 🏝️ 
*The following photos have, to the best of our ability, been placed, credited, and captioned in a chronological and factual way.