The Terrific Track and Field Teams of 2022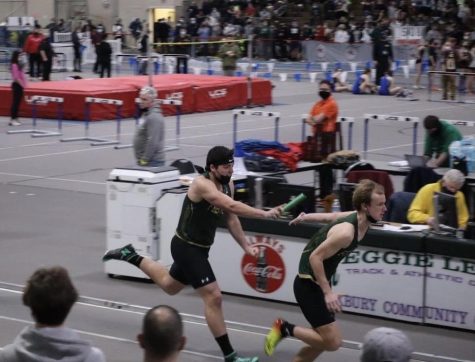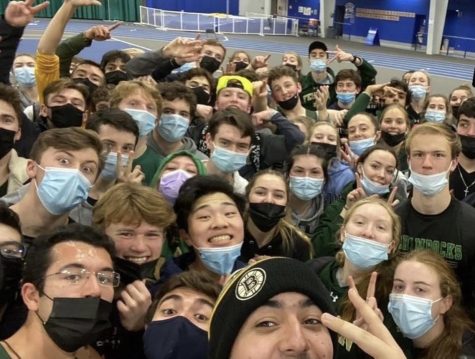 After an undefeated dual meet season at Wheaton College, the boys and girls winter track teams emerge as League Champions! The Shamrocks dominated the track and field events at the MAC Championship, victoriously claiming the title for Bishop Feehan. A performance of this magnitude does not occur without a great amount of teamwork and determination, and nothing less is displayed by Feehan's track teams day in and day out.
To get a true sense of the dedication and daily commitment of the members of the track team, the readers of the Rock Report must get an inside look into the sport itself and the athletes that compete. Whether you are a prospective member of the track and field team wanting a deeper insight into the sport, or a curious reader hoping to gain some insider information on the MAC Champions, we hope you are inspired by their motivation and maybe even compelled to join this incredibly rewarding sport in the spring!
There is truly something for everyone on Feehan's track and field teams, and there is no better way to discover your interests and strengths than through the many events that track has to
offer: 55m/hurdles, 100m/hurdles, 200m, 300m, 400m, 600m, 800m, 1000m, mile, 2 mile, relays, long jump, high jump, and shot-put. These events are separated into four groups: sprinting, distance, throwing, and jumping. Almost all track members can attest to the fact that it can take some trial and error in order to find their events, so stepping outside of your comfort zone and trying new things is not only welcome at track, but encouraged!
With an overview of the many diverse options available at track, let's hear from some of the athletes themselves. First up is Anna Cinelli, thrower extraordinaire, with a glimpse into what an everyday practice looks like. At 2:45, while most kids are on their way home, the throwers can be found working hard on their strength and mobility. "We run the lap with the runners and then we go over to the throwing circle or the rock and stretch… After we stretch we do different
drills that build up into our actual throw. Once we do those we get in the circle and do stand and glide throws which are like what we do in a meet! Once we throw for a bit we normally do a cardio finisher and foam roll or partner stretch after…If we don't do that schedule we are in the weight room lifting!" If this sounds like your ideal afternoon, then throwing might be the group for you on Feehan's dominant track and field team.
Sprinting is also available though track, and if this interests you, sprinter/mid-distance runner Val Capalbo can offer some insight into her daily practice routine: "We spend a lot of time stretching at the beginning of practice to prepare to sprint and then we usually either do a speed based workout or an endurance based workout, and then after the workout we do core and stretching and rolling." Preparation and recovery is just as important as the run itself, so there is no shortage of injury-prevention techniques during each practice.
Lastly, winter track captain and distance runner (800m, 1000m, mile, 2 mile) Liz Borah is here to share her thoughts about the sport. When asked her favorite aspect of track, Lizzie answered "The friends I have made and how hard we work together." Liz has summed up what
almost every track athlete would say is their motivation to keep pushing themselves to their limits everyday. "Ultimately, what is truly special about track and field is not the miles logged, hurdles jumped, or shot-puts thrown—it is the support from incredible teammates and coaches who are with you every step of the way."