Student Spotlight: Andrew DeGuzman
Leadership has a strong presence at Bishop Feehan. The Feehan environment fosters many students who are considered leaders in the classroom, on the field, and in the community overall. One of these students is Andrew DeGuzman.
Andrew is a part of the class of 2024. He is a very active member of Feehan's community, participating in a wide variety of extracurricular activities throughout the school year. He is a part of many weekly clubs including the math team, robotics, and chess club. He also volunteers his time to Feehan as a McCauley ambassador and a member of the flag detail. Andrew is also a member of the Feehan band where he plays the trombone with his fellow bandmates for many out-of-school events. He was also chosen to attend the Hugh O' Brian Youth Leadership Conference where high school students from across the country participate to develop their leadership skills and learn how to apply them to become effective, ethical leaders in their homes, school, and community. Andrew loves to be involved in so many things because he believes in hard work and dedication, saying "my motto is go hard or go home."
Andrew is also a 3 season athlete, competing in fall cross country, winter fencing, and spring track. Andrew is passionate about running and physical activity because he believes that physical fitness is very important to a happy and healthy lifestyle. Andrew is also a stellar academic, as he has taken many Honors 1 and AP classes since he began his time at Feehan and has continuously made Feehan's 1st honor roll. I personally have shared a classroom with Andrew many times and find him to be a diligent, intelligent, and kind student and person.
Where Andrew's leadership has really shined at Feehan has been his role on Feehan's student council. He was elected the president of the junior class where he has helped to organize many events for Feehan's students including dances, tag days, fundraisers, etc. Andrew joined the student council because he felt inspired by Bishop Feehan and wanted to inspire others. He wanted to ensure that every student's voice was heard and all ideas could be incorporated into the inner workings of the student council.
He also wanted to be a good leader for Feehan's community, saying "I think if you want to be a leader just because it looks good on a college application or resume, you shouldn't be a leader. You should be a leader because you want to help and you want people to benefit from your leadership."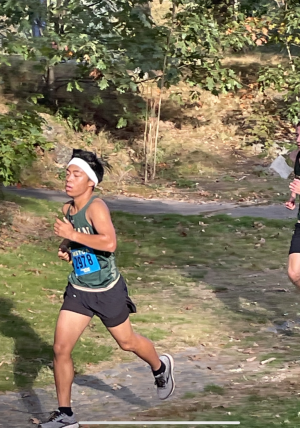 Overall, Andrew DeGuzman is a hard working and dedicated person with admirable qualities. He is a leader now at Bishop Feehan and will no doubt go on to be a great leader later in his life.
"
"I think respect is very important, not just at Bishop Feehan but also in life. Respect gets you places and if you don't have respect for the people around you you don't deserve the people around you.""
— Andrew DeGuzman ('24)