Book Review: Kingdom of the Wicked by Kerri Maniscalco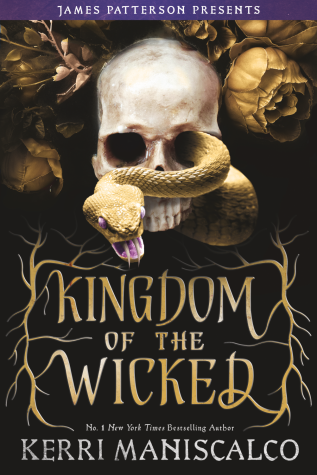 Kingdom of the Wicked by Kerri Maniscalco is the first book in the hopeful trilogy. The book begins with the protagonist Emilia di Carlo living in Sicily with her family, such as her extremely cautious grandmother, Nonna Maria, and her adventurous twin sister, Vittoria. However, this Italian family is hiding more than they let on. The di Carlo family ladies are streghe—witches who have lived secretly among humans for centuries. When Vittoria misses a dinner service at their family restaurant, Sea & Vine, Emilia goes to find her. Imagine her horror when she finds her twin sister brutally murdered and a mysterious man looming over her sister's dead body. To make the matters worse, Vittoria wasn't the first witch to be murdered in Italy. Emilia then goes on a journey of vengeance to figure who murdered her twin, and why. This immersive book has you solving the riddles with Emilia, and sometimes both the reader and Emilia are horribly wrong.
Kingdom of the Wicked, in my opinion, is a five star book. I loved every second of reading this book and could not put it down. All the twists and turns of this book intrigued me more and more. The more I read, the less I could put the book down. The complexity of all the characters added a whole new dimension of likability and relatability. These characters, Emilia, Wrath, Anir, Fauna, and even Antonio, have taken my heart captive and have not let go. A little bit of a spoiler alert, but the enemies-to-lovers trope between Emilia and Wrath has me in a choke-hold. I love the dynamics between the characters and how Ms.Kerri Maniscalco makes the tension almost unbearable. 
The aspect I liked the most was the inclusion of all seven deadly sins: Wrath, Envy, Greed, Pride, Lust, Gluttony, and Sloth. Even though we do not see all seven in the first book, they are mentioned one way or another. All in all, this book was a rollercoaster ride with so many highs and lows, it was almost too hard to keep up. 
Also, if you read either Kingdom of the Wicked or it's sequel Kingdom of the Cursed do not hesitate to contact me ([email protected])  to talk about them, because there is a lot to digest.