Thanksgiving Baskets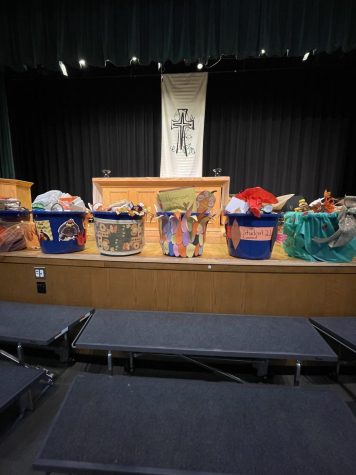 Every year at Bishop Feehan, the spirit of Thanksgiving is alive and thriving. There are near 100 baskets filled to the brim with donations, one for almost every homeroom and club in school. The whole student body gathered together for the Thanksgiving mass the Wednesday before, at which point all of the baskets carried up to the stage and presented to the entire student body. The gratitude and giving spirit of Feehan can be truly overwhelming as the 100 or so baskets, overflowing with food donations for needy families, are carried throughout the aisles, covering the risers. 
The Thanksgiving baskets begin to collect donations around mid-November, and even with the procrastination from students to bring their food items in, there is no stopping the schools ambitiously charitable goals from being achieved. 
The school takes immense pride in how successful the food collection  goes, with Principal Kane commenting at the mass, "I hope you remember this image [of the basket turnout] long after you have graduated from Feehan. This is what our school is all about." (BFHS Instagram) 
These words have been carried through years past, whether spoken aloud or not, as ways to show anyone what the Feehan community is about. Alumnus, students thinking of applying, and especially the students should realize how important things like this are to the school. Feehan may not say explicitly how important a giving spirit is to be a shamrock, but stewardship may be the most important core value to the school. It isn't seen just in grand acts around holidays, such as this and Santa Shop, but through the simple acts of students showing kindness. It's exemplified by assisting teachers and coaches with any heavy materials, students helping random kids understand topics in school. It's shown by being a good person, and setting our hearts on things above.