Fair Verona Brought to Bishop Feehan
William Shakespeare's famous tale of Romeo and Juliet is taking the stage here at Holcott Drive. While the original scenery and setting of the play takes place in the 1300's, this modern rendition of the play only adds on to the original drama that is created in the play. Yet, the most important aspect of the play that is preserved is the intriguing old Shakespearean language, which not only makes the play more exciting as well as authentic. This could also include the choice of music, props, costumes, sets, and overall portrayal of the story. Students who are part of the set crew are hard at work making the scenery, working on lighting, as well as costumes, while actors are hard at work learning lines, learning stage fighting, and how to capture the essence of the character.
After two years of having no performances, many students here at Feehan are ecstatic to get back into theatre, especially getting to perform and practice in person. The opportunity to practice in person has allowed students to be more involved, as well as to meet new people in a more familiar environment that brings them joy. Olivia Poirier—one of the stage managers—said that she got involved in theatre because it was a chance to spend more time with friends, as well as her brother, Mason Poirier, who will be debuting as Romeo. Both she and Marco Fraone have volunteered to be the stage managers this year, not just because of their love for theatre, but the exposure and connections they could build. Marco Fraone says "It's a very sociable job, one where you get to talk to different people, and interact with adults."
 Although there were no in-person performances last year, some students contributed in making a recorded version of The Crucible, all of the students agreed that actually being able to go in person and getting to be around a community and environment of people who share the same interest as you is more ideal. In addition to this, some students such as Arianna Simoneau said, " When I read Romeo and Juliet last year in my class last year, I grew to like it more and more. But now getting to perform it and seeing it come to life on stage is a beautiful and different experience". 
One would say that theatre brings people together. Especially when gathering together to share similar interests, it really builds a bond between the cast, which is evident in the chemistry on stage. Whether you love romance, tragedy, or just Shakespeare himself, you can look forward to the music,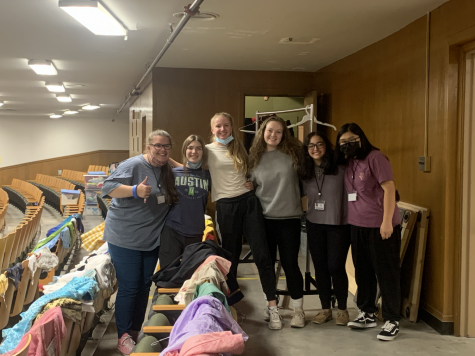 special props, and especially the amazing acting. Come experience the magic that appears on stage on November 19 and 20th, and come support your fellow Bishop Feehan Students and Theatre Department.