The Dark Side of the Moon : A tribute concert by the Bishop Feehan Music Department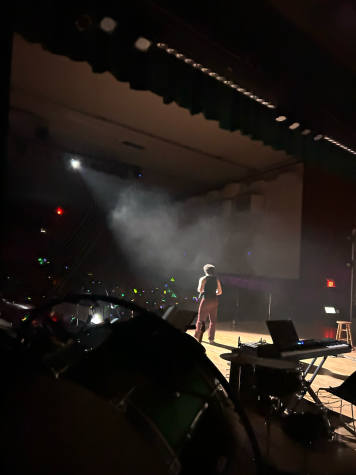 The talent within the Bishop Feehan Music Department is undeniable. From an incredible Christmas concert to 21 PPAC Ocean State Star Award nominations for the theater department's excellent interpretation of hit show: Urinetown the Musical, the department has never seen such success. Most recently, the talented musicians of BFHS tried something completely new: A Dark Side of the Moon tribute concert in honor of the fiftieth anniversary of the crowd-pulling album. 
A loved and valued member of the music department, Yusef Kassem '23, organized the show for months, ultimately putting together a band of Feehan's most talented musicians. And in true shamrock fashion, the root of the concert was service. All proceeds were donated directly to "Operation Comfort Warriors" by the American Legion, supplying veterans with comfort items and assistance to overcome their mental and physical health struggles. Kassem '23 noted in his introductory statement before the show that the the goals of "Operation Comfort Warriors" associate with the central themes of the album. In fact, one of the most popular songs on the album, "Us and Them", centers around ideas of armed conflict and the pressures that come with war regardless of our innate human search for peace.
There are a total of 10 songs on the album, but the common consensus with the band was that the superhit song "Money" was an all-time favorite to perform. Vocally starring Beatrice Detrolio '23, "Money" was also vastly popular amongst the audience; though my discussions with audience members proved that "The Great Gig in the Sky" was also widely revered following senior Callista Defeo's superhuman execution of a notably difficult vocal performance. Even in the midst of such awe-inspiring vocals, it would be remiss of me not to mention the phenomenal instrumentals as well as the sublime lighting courtesy of none other than Aryan Mellen '23. Who knew there was so much talent hidden amongst Feehan's sea of green plaid?
Now, I'm almost certain that, after this performance, Pink Floyd gained a few new Spotify followers. However, the true joy lies in the fact that young people today have a passion for music and are using that passion to better themselves and the world around them. The students of the BFHS music department are eternally grateful for teachers like Mrs. Seals, who have offered endless support and served as inspiration for who they one day wish to become. I don't think that such talent can be conveyed through words, but to quote a younger child whom I happened to be walking past while leaving the concert "that was the coolest thing I've ever seen".