'Rock Talks: Janet Singer Applefeild
Holocaust survivor Janet Singer Applefield (born Gustawa Singer) came to Feehan this past month to speak to students about her experience growing up in Poland during the German occupation. As one of the last installments of this school year's 'Rock Talks, Janet presented during a school wide assembly. Born in June of 1935, Janet has lived a long and fulfilling life and currently resides in a town outside of Boston. Janet has three children, five grandchildren and provides psychotherapy services for patients in nursing homes. Along with her talks, Janet has had a long career using her Masters in Social Work from Boston University to treat patients of all stature, a passion born from experience. However, Janet's life before moving to America was quite different. 
Janet was only four years old when World War II broke out, but age did not stop her from being persecuted. Being Jewish and living in Poland, her family tried to escape the country as the Nazi invasion began. However, this attempt was unsuccessful and her family decided to split in order to protect Janet. Her mother, Amaja Nabel, was sent to a concentration camp while her father, Alojzy Singer, was sent to the Krakow Ghetto and Janet was sent to live with a cousin under an alias. Facing abuse by her new caretaker, Janet's cousin often neglected her and eventually abandoned Janet in a local church. Janet later realized that she was left because of her cousin's arrest for participation in the Polish Resistance. Now all alone, Janet bounced between caretakers, ending up in a Jewish orphanage as the war ended. At the final conclusion of the war, Janet was reunited with her father and on March 25th, 1947 the two of them arrived in America. 
Janet's life is a testament to the powerful effects of hatred. Through her work as a speaker, Janet's hope is that students will take her experiences and begin to understand the perils of hatred and will try to stop hate in all of its forms. Along with her job and presentations as a speaker, Janet is working to write her memoir as well as creating a documentary about her experience in the Holocaust. If you would like to learn more about Janet and her work, visit her website here. You can find some of Janet's work and a more detailed version of her story along with a list of where she has spoken and a way to book a talk. 
As said by her website, Janet's mission statement is "Teaching children and young adults the power of courage and resilience in the face of bigotry and hate."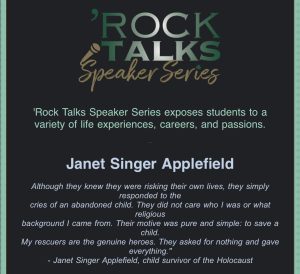 Sources:
https://janetapplefield.com
and thank you to Mrs. Peixoto for her help.