Pool Planning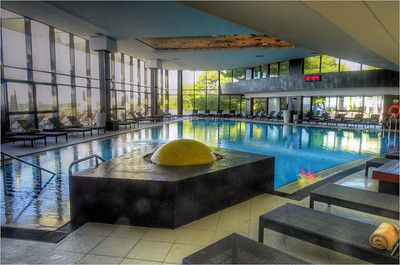 The Bishop Feehan Administration has made the shocking announcement that, after many years of extensive planning, a pool will be installed on the fourth floor. The pool area is set to be constructed on top of the original classroom building. The entire third floor of the main building, including all of the science labs, will be remodeled into various facilities vital to pool use. On the left end of the hallway, there will be locker rooms available for use by the entire student body. These facilities will include four wood saunas, fifty porcelain toilets, thirty luxurious rainfall showers, six cold tubs, fifteen heated towel dispensers, and complimentary toiletries such as chocolate chip cookie-scented soap. On the right end of the third floor, there will be a Shamrock Swim Shop, which will sell novelty retail items such as the Shamrock umbrella, Shamrock Crocs, Shamrock sun hat, Shamrock goggles, and Shamrock Speedo. After ascending the marble and gold leaf stairs on either end of the third floor hallway, students will discover a glorious eight-lane pool with heated marble tiles, oak walkways, and a Shamrock-shaped hot tub. Diving boards and platforms of various heights will be constructed so students can have fun jumping into the pool. Additionally, there will be a poolside restaurant that will serve smoothies, tacos, BBQ, and, of course, chicken tenders and fries. For those who prefer to sit in the sun, there will be cushioned beach chairs available on a first-come, first-serve basis. There will be a retractable glass roof over the pool, making it suitable for use in all seasons. Students may use the pool both before and after school when it is not being used by the swim team. Juniors and seniors may opt to take pool-based electives such as Underwater Novel Writing with Ms. Willis. The pool will also allow for community building events such as a Jaws movie night. Feehan is really setting its hearts on things above… this time it's a new pool.
Additionally, Bishop Feehan is now conducting a search for qualified students to become lifeguards at the pool. Must be AED and CPR certified. Morning hours: 6:00-7:30 Afternoon Hours: 3:00-5:00. Contact the Welcome Center if interested. 
Swimming lessons will be available on Monday, Wednesday, and Thursday from 3:00-4:30. There will be a $20 fee per lesson.
Credit: FowardDefensive 4/3/23
Caption: An artist's rendition of the new pool on the fourth floor.