Book Review: Sea of Tranquility by Emily St. John Mandel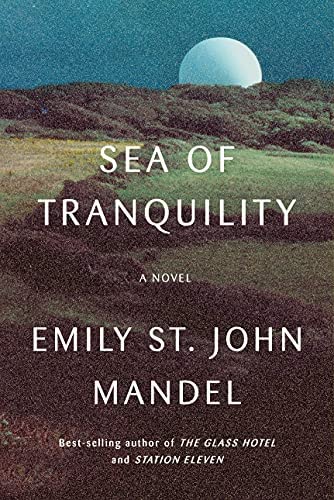 Lydia Nassef, Staff Writer/Co-Editor in Chief
February 2, 2023
Sea of Tranquility, Emily St. John Mandel's sixth novel, is a work of science fiction that follows four seemingly unrelated characters, living centuries apart, and weaves their lives together to create a thought-provoking examination of the human condition through the concepts of time travel and metaphysics.
Edwin St. Andrew, born in the early 1900s, has just been sent away to British Columbia, Canada from his home in England as punishment after a disagreement with his parents. Upon finally settling down in Victoria, BC, he has a strange experience in nearby forest: he looses all vision, hears echoing notes of violin, a vast, roaring noise, and the next moment he is conscious again, vomiting on a nearby beach.
Fast forward two centuries, when Olive Llewellyn, a resident of Moon Colony 2, is on tour on Earth for her new pandemic novel, "Marienbad." In this novel, Olive describes a man playing violin in an airship terminal as a forest emerges from the floor around him.
Another two centuries later, Gaspery Roberts is working a hotel desk job on Moon Colony 2, two centuries after Olive has lived and died. When his sister reveals her suspicions about various incidents of anomalies in reality throughout the past few centuries, he dives into the lives of different lost individuals throughout history.
This novel is daring. Mandel toys with ideas that are so easily made into cliches, and has impressively, yet unsurprisingly, created a beautiful story of interwoven experiences. Mandel uses the stories of these characters to create a fun, fascinating page turner that engages the reader with both curious depictions of time travel and alternate realities as well as tender portrayals of human nature. Her unique story provokes questions that are essential to understanding what it means to value one's life: Do we truly feel grateful for our lives, or do we simply float through our everyday experiences waiting for something more? Do we take the most fundamental aspects of life, from seemingly insignificant interactions with strangers, to the very air we breathe, for granted?
In Sea of Tranquility, Mandel often references her other novels, almost like easter eggs for those who have read her previous works. For example, her character Olive was quite obviously very influenced by the experiences of Mandel herself after writing Station Eleven, both being women writers who both authored bestselling pandemic novels just a few years before actual outbreaks of pandemics that shut the world down. Mandel published Station Eleven, a science fiction novel following a post pandemic apocalyptic world, just six years before the outbreak of COVID-19. Mandel also draws characters from her 2020 novel The Glass Hotel, most notably by referencing Vincent, a young woman who experienced an anomaly in reality herself. In Sea of Tranquility, Vincent's story is further examined through her brother and former best friend, who were both characters in The Glass Hotel, as well as Gaspery. These overlapping characters may suggest that these three novels are parallel universes, as there are similar references to Station Eleven in The Glass Hotel as well.
I strongly recommend Sea of Tranquility to all readers. It is an easy, quick read, and is as fun as it is thought provoking! It recently won the Goodreads Readers Choice Award for Best Science Fiction of 2022, which was absolutely deserved. I'd rate it a 4/5 stars, but I especially recommend it to anyone who enjoyed Station Eleven or The Glass Hotel as much as I did (which I would rate 4/5 and 5/5, respectively) in Mr. Ryan's or Ms. Bickford's English classes. Huge thank you to both of them for introducing me to my favorite author!