"Starry": What Was Pepsi Thinking?
The Sierra Mist soda was originally released by PepsiCo in 1999. This lemon-lime flavored soft drink aimed to compete with others like it including the Coca-Cola Company's Sprite, as well as Keurig Dr. Pepper's Seven Up.
Despite its effort, Sierra Mist has never been able to trump Sprite's dominance over the market. Sprite consistently remains the leader in lemon-lime soda sales each year, maintaining about 8.3% of the overall market. Contrary to Sierra Mist making up significantly less than 1% of this market.
Recently, Pepsi has rebranded Sierra Mist, launching a new carbonated lemon-lime drink to compete against Sprite and other contenders called "Starry".
This caffeine-free drink is available in both regular and sugar-free versions. Representatives of PepsiCo presented Starry's new formula as having "higher citrus flavors that are true to fruit and… a more balanced, cleaner, crisp finish than Sierra Mist." Ironically, Sierra Mist's formula was made with real sugar while Starry is made with artificial sweetener, specifically high fructose corn syrup.
What's more interesting than the new flavors involved in this rebrand is Pepsi's new advertisement strategies, mainly with its generational marketing. PepsiCo has directed this drink primarily at Gen Z. Pepsi's attempts to appeal to a younger age group resulted in Starry's brightly colored bottles and multiple social media ad campaigns. By displaying the drink as "bright, optimistic, and rooted in culture and fun," along with the brand's new tagline "Starry Hits Different, " Pepsi has clearly demonstrated its hopes to gain support from younger consumers. Other lemon-lime drinks like Sprite have outdone Pepsi's Sierra Mist for so long, it's not difficult to understand why Pepsi wants to introduce a new product to an impressionable audience; not only to boost current sales but to also lay the groundwork for lifetime loyalty to their product.
Generational marketing is not new for PepsiCo and is certainly not a new concept for any of these large soft drink companies. However, it is also a marketing strategy that often fails to extend a product past short-term goals, or win over the given age group for a long period of time. And despite their efforts to make Sierra Mist look better, taste better, and sound better, I personally believe that PepsiCo is doomed to have its target demographic continue to view their lemon-lime flavored beverage as an "off-brand" version of Sprite.
Which Soda is Better?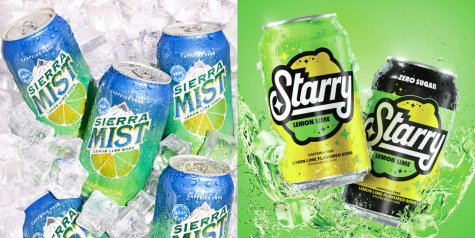 Sorry, there was an error loading this poll.
Sources:
[1]https://www.fastcompany.com/90836211/pepsi-new-gen-z-soda-starry-generation-marketing- pepsico
[2]https://www.tasteofhome.com/article/starry-pepsi/v [3]https://fox5sandiego.com/news/national-news/pepsi-dumps-sierra-mist-debuts-new-lemon-lim e-soda-to-compete-with-sprite/ [4]https://thedieline.com/blog/2022/10/13/pepsico-launches-starry-a-new-lemon-lime-soda-for-th e-kids-aka-gen-z?
[5]https://en.m.wikipedia.org/wiki/Sierra_Mist [6]https://www.foodbusinessnews.net/articles/23000-pepsico-launches-sprite-competitor-geared- toward-gen-z [7]https://www.businessinsider.com/pepsi-launches-starry-replaces-sierra-mist-sprite-soda-2023- 1#:~:text=In%202021%2C%20Sprite%20raked%20in,on%20the%20launch%20of%20Starry. [8]https://www.today.com/food/news/starry-replacing-sierra-mist-pepsi-rcna65389