National Fall Signing Day
For 20 members of our senior class, the college application process has officially come to an end. Wednesday, November 9th, was the National Fall Signing Day and we are beyond excited to have had so many of our students participate. After an extensive college recruitment process, these athletes have officially proved themselves athletically, as well as academically, and we couldn't be more proud.
Cameron Burns has been the only member of our boys football team to commit thus far. The running back has been recovering from a torn ACL and meniscus, but this hasn't stopped him from supporting his teammates on the sidelines. Burns will be attending Hamilton College in Clinton, New York next fall. There is no doubt he will continue to be an amazing and hard working player at the college level.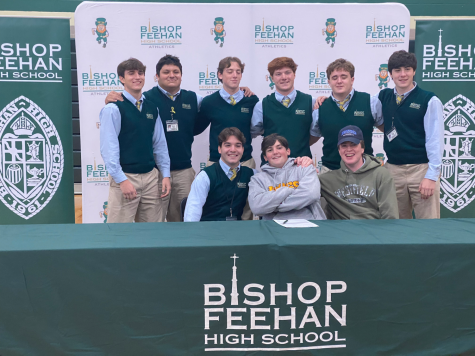 As of now, our boys baseball team has had a total of five commitments. Pitcher Thomas Hartley IV, who is also a tackle on our football team, committed to Westfield State University in Westfield, Massachusetts. There, he will be joining many Bishop Feehan Baseball Alumni. Ian Moser, our starting catcher, committed to Eastern Connecticut State University in Windham, Connecticut. Second baseman, Joseph Mulvey, committed to Hobart College of Hobart and William Smith Colleges in Geneva, NY. Baseball pitcher and hockey defenseman, Tyler Slack, committed to the University of St. Joseph in West Hartford, Connecticut. And finally Jacob Rosati, baseball senior captain and shortstop, committed to the University of Massachusetts at Dartmouth. We're excited to see them continue their triumphant baseball careers in the spring.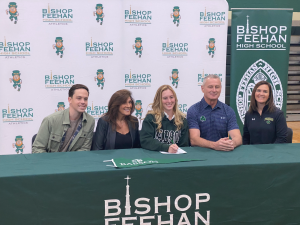 For girls basketball, we have the commitments of Mary Daley and Samantha Reale. Both girls are senior captains and shooting guards. Daley will be spending her next four at Macalester College in Saint Paul, Minnesota, while Reale will spend her's at Babson College in Wellesley, Massachusetts. The Feehan Community is beyond proud of these girls and cannot wait to see them lead the team to victory this season.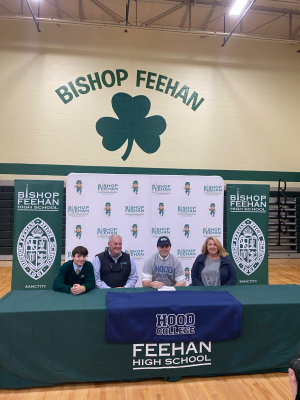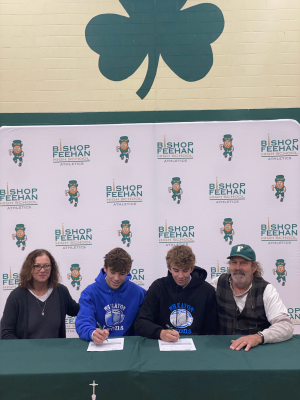 Like baseball, the boys lacrosse team has also had a total of five commitments. Captain and defenseman, Mason Koloski, will be spending his next four at Hood College in Fredrick, Maryland. Twins Theodore and Henry Stamatel have been dual-athletes for all four of their years at Bishop Feehan. The boys have played lacrosse in the spring, while also being a part of our soccer team in the fall. Theodore, attacker, and Henry, defenseman, will be attending Wheaton College, in Norton Massachusetts. There, they will be joined by attacker Evan Paturzo and midfielder Connor Davine. Like Koloski, Davine is also a captain for the 2023 lacrosse season.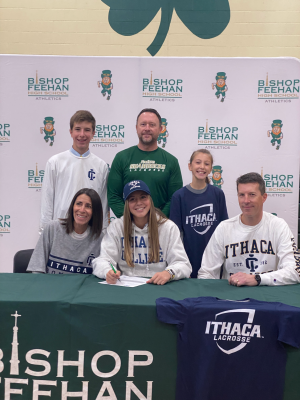 All four of our girls lacrosse captains have committed to continue their leadership and success at the college level. Defenseman and midfielder Samantha Buonaccorsi, who is also a captain of our field hockey team, will be attending American University in Washington, DC. Goalie Keira Cronin will be spending her next four at Belmont Abbey College in Belmont, North Carolina. Attacker Sydney Smith, also a member of our girls soccer team, has committed to Ithaca College in Ithaca, New York. Last but certainly not least, defenseman Charlotte Wymes will be spending her next four at Bryant University in Smithfield, Rhode Island.
Our girls soccer team has once again had a super successful season. As of now, only two of our girls have officially committed to continue at the college level. Midfielder Giovanna Francesconi has committed to the College of Mount Saint Vincent in New York, New York. Her fellow midfielder and captain, Sydney Kofton, will be joining her in New York. Kofton will be attending the State University of New York at Albany in Albany, New York.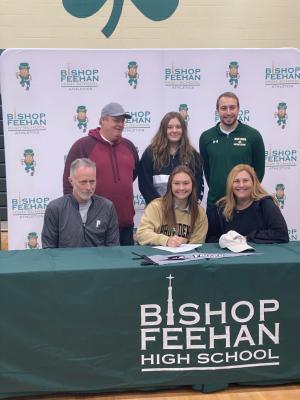 Our swim team has had a history of its members committing to some of the best college swim teams in the country. Captain Julia Pelchat will soon be a part of that history. The freestyle sprinter was the 2022 MIAA State Champion in the 50 yard freestyle, and runner up in the 100 yard freestyle. Pelchat will be continuing her successful academic and athletic career at Providence College in Providence, Rhode Island.