Student Council Elections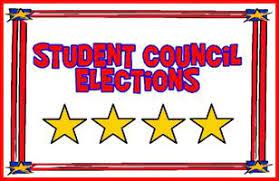 At the beginning of this month, the Student Council elections for the 2022-2023 school year were held. Speeches were read and questions were answered on May 5, and on May 6, the votes were cast. These were the election results: 
For the Class of 2023:
President – Marco Fraone
Vice President – Nick Yanchuk
Officer – Adrienne Kyere
Officer – Alysse Moskal
Officer – Brennon Schifman
Representative – Mary Daley
For the Class of 2024:
President – Andrew DeGuzman
Vice President – Maddie Brennan
Officer – Mirolla Boules
Officer – Danny Coady
Representative – Ella O'Brien
Representative – Molly Sullivan
For the Class of 2025:
President – Rohit De
Vice President – Patrick Martin
Officer – Adrianna DaRosa
Officer – Owen Kobs
Representative – Sulaf Hourani
Representative – Katherine Zhang
There will be some structural changes to Student Council going forward, and these are reflected in the elections. In previous years, eight candidates would have been elected for each grade at this time: the class president and vice president, the two class officers, and four class representatives. However, only six people per grade were elected, with two representatives instead of four. The changes to Student Council decrease the number of core elected members, making each one more important.
In addition to this, each homeroom will elect one person to serve as a homeroom representative in the fall. The addition of homeroom representatives increases the connection Student Council has with the student body, as these representatives will be liaisons between their homerooms and the rest of Student Council. 
Elections for the Executive Board of Student Council were also held this month. As of May 26, the President and Vice President of the Executive Board (a rising senior and junior, respectively) have already been elected, with the Secretary and Executive Officer to be elected and announced soon. The President-elect of Student Council is rising senior Marco Fraone, and the Vice President-elect is rising junior Maddie Brennan. Congratulations to the newly elected members of Student Council and its Executive Board for the 2022-2023 school year!