Club Spotlight : PAWS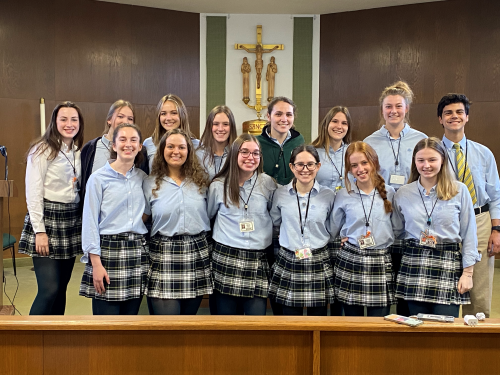 Feehan has dozens of clubs, but one stands out from the others. Praise, Adoration, and Worship through Song, or PAWS, is one of Feehan's most recognizable and unique groups. Leading the community in spiritual music every Friday, the members of PAWS spread joy, love, and faith in all of their performances. 
       PAWS is a musical group at Feehan that focuses on practicing and performing religious music. All are welcome to attend their weekly performances, held in the chapel, and are encouraged to join-in and sing along. When coming to PAWS, you can expect to see many singers, instrumentalists, and some regular attendees includingq Mr. Kane, Deacon Joe, and Mrs. Medeiros. 
       Not only is PAWS fulfilling for those who attend, but also for the members of the group. One of the leaders, Grace O'Hanlon '22, loves PAWS because "everyone has a chance to be themselves and do what they love," all of which is very evident in their performances. Some of the other members' favorite PAWS experiences include their morning rehearsals where they can relax with their friends, and the performances directly following the ECHO retreat when they have their biggest audiences and a lot of participation.
       PAWS encapsulates some of the best qualities that Feehan has to offer: faith, hope, and love. This group shares their gifts in a way that brings others together, allowing everyone involved to leave feeling better than when they arrived. All students should experience the great energy and impact of PAWS at least once during their time at Feehan.