Student Spotlight : Jillian Conlon
At Feehan, there are many exceptional students who deserve to be brought into the limelight. One of which is Jillian Janet Conlon. Jill is known by many as an overachiever. She not only excels in her academics, but is also deeply committed to her athletic endeavors and volunteer work. Jill is also viewed as an overall hardworking and genuine person.
Jill is currently a sophomore at Feehan. Although she's only been here for two years, she has really made the effort to get involved in the community. She has been involved in the International Cooking Club, Film Review Club, Climate Action Club, the Feehan Theatre Set Crew, and St. Vincent de Paul Club. With St. Vincent de Paul, Jill participated in many events to serve her community, such as her work with Feehan's Santa Shop Christmas event. Jill has also volunteered in many other areas such as her local food pantry and participated in events with the catholic service group Knights of Columbus. 
Aside from her volunteer work, Jill is also passionate about softball. She started playing at age 11 and has been committed to the sport ever since. Jill has played with the position of "catcher" and "outfield" for many softball leagues including the Medfield and Medway town teams, as well as club teams such as Metrowest Eclipse, Metrowest Thunder, and her current club BNB Rox. She also participated in the Franklin League All Star Game twice and was the starting catcher for Bishop Feehan's junior varsity softball team as a freshman. Jill is hoping to play varsity softball as she continues her years here at Feehan and also go on to get recruited and play for a college after she graduates high school. 
Jill is also an excellent and committed student. She takes her academics very seriously and works hard for every grade she earns. This year, she became a part of the Spanish Honor Society, the Science Honor Society, and the Music Honor Society for her academic achievements in those individual subjects. She has also received an average of a 93% or above every quarter, gaining Feehan's "First Honors" every time. Along with this, she also had the highest biology average out of all her peers in her freshman years. In her sophomore year, Jill participated in Feehan's science fair and won an honorable mention. She went on to place third at the Regional Science Fair and will be continuing on to the State Science Fair this May.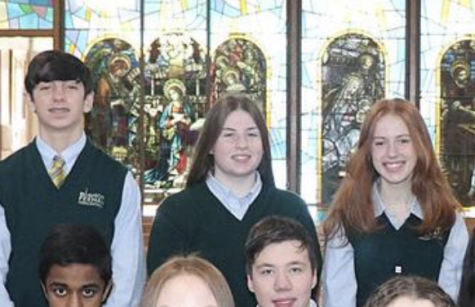 I have personally had the pleasure of working with Jill both in and out of the classroom. She is a great friend and colleague to have around. She is also one of the most honest and kind people I have ever met. I truly believe she is destined to do many great things both in and out of Bishop Feehan.