On Center Stage : The Prom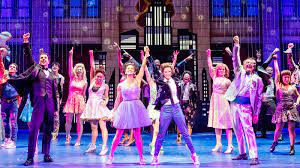 Recently at the Providence Performing Arts Center, the National Touring Company of The Prom visited from March 8th to March 13th. Its reviews from the New York Magazine, The New York Times, Variety, and The Hollywood Reporter  congratulated the show for being "smart, big-hearted, and comic gold." The Prom was a success on Broadway as well as off-Broadway and on television. The Prom's Netflix adaptation, which starred Ariana DeBose as Alyssa and Jo Ellen Pullman as Emma, raked in $187,430 from the Box Office. The National Tour of The Prom starred Kaden Kearney as Emma and Kalyn West as Alyssa and has 10 places left to tour to: Madison, WI; Minneapolis, MN; Chicago, IL; Worcester, MA; Seattle, WA; San Francisco, CA; Dallas, TX; Las Vegas, NV; Los Angeles, CA; and Kansas City, MO.
On Thursday, March 10th, the National Tour of The Prom was put Center Stage. At intermission, many people really liked Barry Glickman, who was played by Patrick Wetzel. Also, the slow-motion in the background of certain scenes, including the "prom-posal" scenes, were very impressive as well as the complete freeze that some of the ensemble members did during "Just Breathe." It was also appreciated, for those who had seen the movie prior to attending, that the on-stage performance was similar, but not exactly the same as the on-screen performance. However, many people disliked the lights in the Monster Truck Rally scene because the lights were so incredibly bright that it was hard to see the actors after getting a face-full of the bright "headlights."
At the end of the show, the one thing that was surprising to some was the fact that the actors did a whole dance number after the bows. Every member of the cast was dancing while most members of the audience were standing and clapping along with the cast and it was quite the scene. The costume changes in the second act, as well as the first, were very impressive. Many members of the cast went from wearing jeans and a t-shirt to wearing a prom dress in roughly two minutes. The plot of the musical was also amazing; the build up to the climax of the story was felt in both the scenes and the songs, especially in "It's Time to Dance" during the build-up to the kiss between Emma and Alyssa. This show can bring anyone to tears with its heartfelt message of love for everyone. This message is blasted throughout the whole show but especially in the song, "Love Thy Neighbor," which was performed by Bud Weber who played Trent Oliver. This show is a family favorite so get your tickets soon to see The Prom!