The Winter Olympics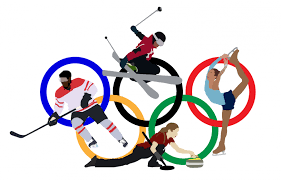 The 2022 Olympics kicked off on Friday, February 4th in Beijing's National Stadium. After a simplistic and relatively short opening performance, the parade ensued. Flag bearers for the U.S. showcased two Olympic medalists, curler John Shuster and speed skater Brittany Bowe, the latter only stepping in after the previous selection, Elana Meyers Taylor, tested positive for COVID-19, although on February 20th during the Olympics Closing Ceremony Taylor was afforded the opportunity to be the flag bearer.
Two days after the Opening Ceremony, the United States obtained their first medal of the Olympics when Freestyle Skier Jaelin Kauf took home the silver in Women's Mogul's. The first U.S. gold came from Lindsey Jacobellis in Snowboard Cross and the first bronze from Jessie Diggins in Women's Sprint Free, a Cross-Country Skiing event, which is the country's first medal in this event. Star gold medalists also include Nathan Chen in Men's Figure Skating and Women's Halfpipe Snowboarder Chloe Kim, both delivering as the favorites to win in their respective events. On the contrary, the group the U.S. put forth for Mixed Team Aerial were underdogs for the event, but managed to acquire the United States' first gold in the event. 
One cannot talk about this year's Olympics without mentioning the end of Halfpipe snowboarder Shaun White's legendary career. White managed to collect three gold medals in his event since his Olympic debut in 2006, and wished to replicate this feat once again, falling just short of the podium in forth place. Regardless, White has been and will continue to be a major inspiration for all winter sport athletes. Snowboarding in Beijing offers another heartfelt tale. Snowboard Cross star Lindsey Jacobellis has been craving gold ever since Torino in 2006, when an attempt to add some flare to her finals run cost her the gold and landed her silver instead. In each passing Olympics since, she always fell short of the podium. This year, at the age of 36, Jacobellis finally achieved her dream of gold not only once, but twice, in both Women's Snowboard Cross and Mixed Team Snowboard Cross with her partner Nick Baumgartner.
All in all, the United States performed well in this Olympics, claiming 25 medals including 8 gold, 10 silver and 7 bronze. This is 2 more medals total than the last Winter Olympics. Overall, the U.S. placed fifth in the medal count, directly behind Canada, who obtained only one medal more than the States. Norway came in first in the medal count, followed by the Russian Olympic Committee, then Germany.
Beijing 2022 – https://olympics.com/en/beijing-2022/ 
Everything You Want to Know About What Went Down at the 2022 Winter Olympics Opening Ceremony – https://parade.com/1320431/alexandra-hurtado/winter-olympics-opening-ceremony-2022/
NBC, CNBC and USA Olympic Coverage