Feehan Swim Making Waves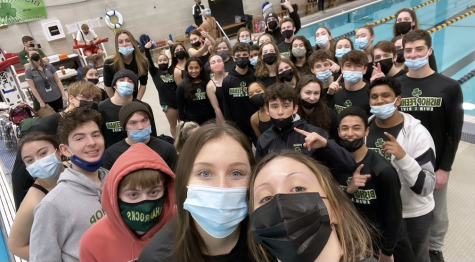 Sportsmanship, excellence, and enthusiasm are all pillars of Feehan Athletics, as well as the successful BFHS Swim and Dive Team. Only halfway through their postseason, Feehan Swim has already made quite a splash in both the CCL Championship Meet and MIAA South Sectional Meet. With 47 members, of all skill levels, each and every team member improved throughout the season, and made lasting memories in the process.
       Led by five seniors committed to swim in college, the team has broken four long-standing school records, as well as numerous other meet records. Captain Jill Carline now holds the record in the women's 100-yard freestyle, and she won the 200 free at the South Sectional Meet on February 12th. In addition to Carline, Pelchat, Silvia, Fitzgerald, Serpa, and Latour helped bring the team to a seventh overall finish at the Women's South Sectional Meet and led the team to a win at the CCL Championships. 
       Captain Nate Coleman (50-yard freestyle and 200-yard IM) and senior Ryan Shute (100-yard breastroke) have broken three records between them, and helped lead the team to 2nd place finishes at both the Men's South Sectional Meet and the CCL Championships. Also competing this postseason for the boy's team are Watka, Schmitt, Daniels, and Jones.
       Coach Jackson Perry '15, led the Swim and Dive team in his first year as Head Coach. Some of the team's favorite traditions are awarding unicorns to team members that stood out, whether inside the pool or on the deck, and screaming the Hail Mary together everyday to help grow team spirit. 
       Like all teams at Feehan, Swim and Dive reaches their achievements by working hard everyday and growing together as a team to reach their goals. They have all put in the work and will continue to as this season comes to an end. The Swim and Dive program hopes to finish strong at the MIAA D1 State Championships on February 26th and 27th.