Book Review : These Hollow Vows by Lexi Ryan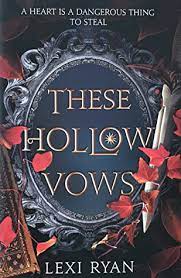 These Hollow Vows, written by New York Times best-selling romance writer Lexi Ryan, is a fairy-tale filled fantasy novel that keeps you on the edge of your seat with all of its twists and turns. Ms.Lexi Ryan decided to write this book because she wanted to step out of her comfort zone and challenge herself to write a fantasy novel. This fast-paced novel, paired with the upcoming sequel, is a definite must have if you are looking for a young adult fantasy book to pull you out of a reading slump.
This novel is about a young woman, Abriella, who has to use the cover of night to steal to make sure her and her sister, Jasalyn, stay out of debt from their evil aunt. The evil aunt adds to the Cinderella aspect of the book, as do the spoiled cousins, and eventual fairy-godmother. This book contains so many different aspects of other popular books and fairy-tales, such as Beauty and the Beast, the aforementioned Cinderella, A Court of Thorns and Roses, Cruel Prince, The Selection, and many more!
If you love The Selection by Kiera Cass or A Court of Thorns and Roses by Sarah J. Maas this book is absolutely for you. The two rival princes vying for Brie's attention create the perfect love triangle of disaster. The first is Prince Ronan, the golden prince, who has many women lined up to become his queen—however none of the women lined up are who he wants. And the second is Prince Finnian, the Prince of Night, who is the typical dark-haired, sarcastic, brooding love interest. However, if you have read both of these series, you might find the book predictable at some points, for it consists of aspects from both books. 
After reading this book, I was dying to find a way to read the sequel. The ending, fair warning, is a cliffhanger—so if you plan on reading this novel and you hate cliffhangers, having the second book on hand would be best. The sequel, These Twisted Bonds, comes out on July 19, 2022. This book is definitely worth the read and I give it a 4 out of 5 stars.
If you want to chat about the book or any book you can contact me ([email protected]) and we can talk!
(If you read These Hollow Vows and need a way to cope with the ending, I highly recommend the A Court of Thorns and Roses series and the From Blood and Ash series.)